In Part 1 of this blog series - Invest in Yourself and in Your Resume - we discussed how to prepare for an interview by investing in yourself. We learned that resume preparation is essential to catching the eye of a recruiter or potential employer. Understanding what you want in the future, and where you want to be is also crucial. By understanding where you want to be in five or ten years, you will be able to frame out how your skills can help an organization grow. In Part 2 of the blog series, we dig a little deeper to help job seekers understand the critical elements during a job search.
---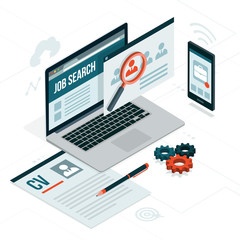 ---
Part 2: Research the Company


Do you know what kind of company you are looking to work for? Are you someone who enjoys a highly-structured environment that is very fast paced? Do you enjoy a work atmosphere where you are free to work at your own pace and you're responsible for your own to-do list? Do you like working in an office or are you more of a lab, factory, or customer interface type person? These are important aspects to consider when deciding what kind of company you want to work for. There are many notable factors to consider when you take any job - pay, location, and benefits, to name a few - but one that so many people don't consider often enough is what type of business it is, the company culture.

So, what can help you to avoid this potential catastrophe? Research. There are numerous resources that can help you learn about companies that interest you as a job seeker. A few of these resources are: glassdoor.com, company websites, and social media.
Glassdoor
Glassdoor is a growing company that holds a database of millions of company reviews, CEO approval ratings, salary reports, interview reviews and questions, benefits reviews, office photos and more. Be sure to take into consideration that Glassdoor can be biased since people may have possibly been terminated or they did not leave on good terms with that company. Nonetheless, it can give a bit more insight than the company website on how the internal workings of a company function.


Company Website
A company website is an externally-facing salesperson. A company website should hold information such as office locations, services, products, mission, vision, and oftentimes, careers. Going into an interview, it's important to see how a company views itself because it helps potential employees or current employees get in the same, or similar, mindset. Company websites are also important for job interviewing purposes; no company wants to hire someone who doesn't know anything about it. It's important to read through any company's website if you are interviewing there. If you check out the website, it's always advised to check out the social media too. This will help to get a better idea about the business, gain a more in-depth feel for the culture, and it will also promote the company's open opportunities.
Social Media
As our world continues to advance with technology, social media has become a great asset to the general public when keeping up with recent events, connecting with friends, and building a network. Connecting with people through personal and professional social media can be a great asset. LinkedIn is a great example. On LinkedIn people are always posting jobs that need to be filled, trying to help direct people to companies that are searching, or just trying to give good advice on where to look for jobs. It's a great resource that should be utilized; really all social media is. It's a great way to connect with people to establish a network, but it's also a great way to find varying opportunities to seek out what you are really looking for.
Being knowledgeable about any company that you consider applying with or that you have an interview for will always give you an upper-hand advantage. A good job seeker does their research on the company and comes prepared with notes and questions to an interview. Whether you have an interview or not, it still helps to do research because you at least know what you are seeking in a company.
---
Follow along our three-part series as our expert technical recruiters share their tips and tricks with job seekers.
Do you want to be connected with a recruiter or learn more about our open careers? Contact LHP today!


---
Related Articles
---