When Toyota launched the first Prius in 1997, many consumers probably didn't imagine that just 20 short years later the electric- and hybrid-vehicle market would be accelerating faster than ever. With its launch in 2003, Tesla popularized the pure EV trend and has since been viewed as the catalyst transforming every major automotive OEM. Hybrid electric vehicles (HEVs), plug-in hybrid electric vehicles (PHEVs), and fully-electric vehicles (EVs) or battery electric vehicles (BEVs) are taking over and continuing to improve year over year. According to the Electric Vehicle World Sales Database,"122,000 plug-in vehicles have been delivered in the first half of 2018, an increase of 37 percent compared to H1 of 2016. 53 percent were pure electric (BEV) and 47 percent were plug-in hybrids." OEMs such as Chevrolet, Toyota, and Honda, and Nissan are joining Tesla to record unprecedented growth rates and volumes for electric vehicle sales.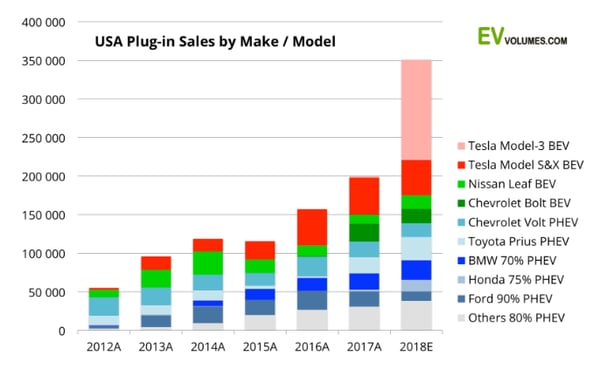 Source: http://www.ev-volumes.com/country/usa/
---
Emissions Standards Drive PHEV/EV Development


The driver of electric- and hybrid-vehicle development is a major increase in stringent government emissions regulations. In 2011, the Obama administration announced an agreement with the 13 largest automakers to increase the average fuel economy to 54.5 miles per gallon by the year 2025. The agreement resulted in new Corporate Average Fuel Economy (CAFE) regulations for model years between 2017-2025.
With cleaner emissions in mind, hybrid vehicles are rising in popularity. HEVs offer a cleaner, redesigned powertrain and unique advantage in efficiency improvements such as:
Environmentally Friendly: The twin-powered propulsion system cuts fuel consumption and conserves energy.

Regenerative Braking System: In a regenerative brake system, the wheels turn the motor, and the motor acts as a generator to recharge the battery. By putting the energy back into the battery instead of wasting it through conventional braking, the energy can be reused to start the vehicle moving again.

Energy Savings: HEVs get better gas mileage than conventional powertrains because they are able to recover energy from the car's motion and reuse it to accelerate the car after it stops.

Comparative Manufacturing Costs: Shifts in manufacturing costs have made HEVs a competitor to traditional competing internal combustion technologies.
The Shift in Testing Needs for BEV/PHEV/EV Testing
As the EV market continues to rise, the need for more reliable automated testing methods becomes greater. The industry needs to adapt to the changing architectures of vehicle powertrains and the ever-more rigorous testing requirements that OEMs have for meeting customer, regulator and investor demands. The newly redesigned powertrain is not compatible with the traditional testing models of internal combustion engines.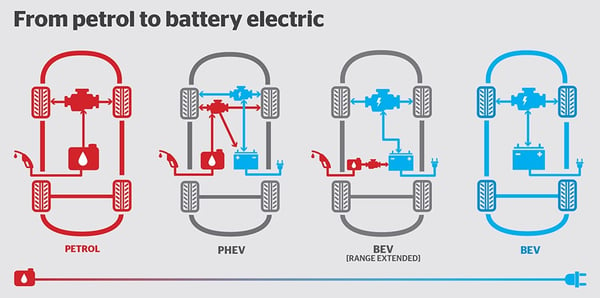 Source: https://www.consumer.org.nz/articles/a-guide-to-electric-vehicles
---
Below is a complete breakdown of the different electric and hybrid vehicles LHP has redefined testing for (EVs, HEVs, PHEVs).
Electric Vehicle (EV)
Electric vehicles are propelled by a battery and motor that can be recharged at a battery plug in station. EVs do not have an internal combustion system, eliminating the need for petroleum.


Hybrid Electric Vehicle (HEV)
Hybrid electric vehicles are powered by conventional or alternative fuels as well as electric power stored in a battery. The battery is charged through regenerative braking, and the internal combustion engine. In other words, the battery captures energy normally lost during breaking by using the electric motor as a generator.
Plug-in Hybrid Electric Vehicle PHEV (PHEV)
Unlike a traditional hybrid or electric vehicle, a plug-in electric vehicle combines the benefits of a traditional hybrid and a battery electric vehicle or BEV. Plug-in hybrids have larger batteries and a greater driving range due to the regenerative breaking and other energy saving components. When the battery runs out of charge, the engine kicks in, although not all plug-in hybrids use their engines the same way. Some are only activated after the battery drains, and some kick in when extra power is needed even if there is charge in the battery.
Mild-Hybrid
The shift is uncovering HEV alternatives, such as the 48-volt mild-hybrid platform which experts suggest is natural middle ground suitable for handling the power start-stop motors, and a variety of accessories ranging from supercharging, power steering, power brakes, water pumps, radiator cooling, and air conditioning.
How LHP Is Addressing the Testing Shift:
Power Electronics- LHPTS offers a flexible test system that can test to numerous standards for a variety of power electronics tests and help suppliers ensure compliance to each original equipment manufacturer's (OEMs) specifications prior to delivery.

Power Inverters - With a Power-HIL (PHIL) system, such as an LHPTS system using an open architecture, researchers and engineers can test traction inverters at full power levels.

Battery Management Systems (BMS) - LHP offers battery packs and Hardware-in-the-Loop (HIL) test systems with battery simulation to use for BMS testing.

Range Extenders- Engineers at LHPTS have built engine control systems for R&D labs developing electric generators that efficiently convert a variety of fuels into electric energy that can be used as EV range extenders.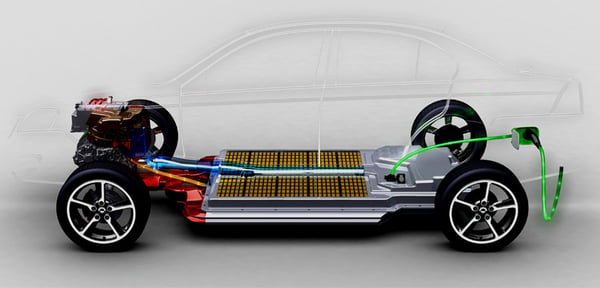 ---
Related Articles
Related Downloads
Learn more about how you can prepare for the shifting automotive industry by downloading our whitepaper: Adapting to New Testing Needs in the Shifting Automotive Industry