ASPICE | What it Means for Automotive
Automotive Software Performance Improvement and Capability dEtermination (ASPICE) as a standard provides the framework for defining, implementing, and evaluating the process required for system development focused on software and system parts in the automotive industry. This framework can be extended to include processes from other domains like hardware and mechanical engineering using the "Plug-in" concept explained in the standard.
Product innovation in the automotive industry has been steadily increasing. As of 2019, 80 percent of product innovation now occurs through software development. Product differentiation by electronic features has exploded the number of vehicle platforms and vehicle variants. Each variant is a unique combination of features that will have different interactions and safety risks. This situation mandates the need for the definition, implementation, and evaluation of proper processes for system development and the coordination of all stakeholders (e.g., OEM, tier supplier, etc.) more than ever.
What It Means for Suppliers
In the automotive industry, ASPICE is becoming a widely adopted standard. Major OEMs such as Audi, BMW, Daimler, and Ford are assessing their electronic and software suppliers based on the ASPICE assessment rating. It provides a more controlled system development process to ensure product quality, shortens the release schedule, and reduces cost impact on the product development due to quality issues identified in later stages of product development.
What It Means for OEMs
OEMs can use the ASPICE framework to assess their supplier's process quality capability during supplier selection. OEMs can define their own system development process to be ASPICE compliant, which will help to assess and improve the process capability.
Outline of ASPICE
ASPICE has its own Process Reference Model (PRM) which is tailored considering the specific needs of the automotive industry. The ASPICE Process Assessment Model (PAM) uses the PRM when performing an assessment.
In ASPICE, capability determination is based on a two-dimensional framework: Process Dimension and Capability Dimension.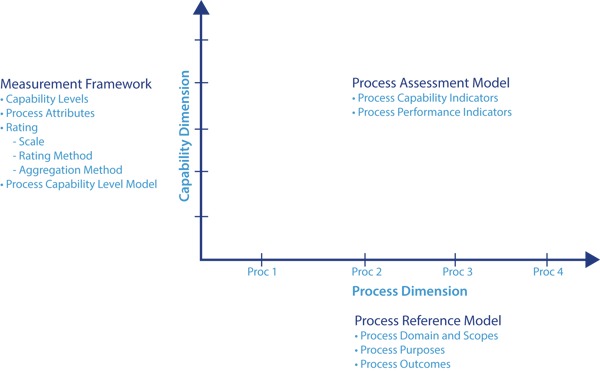 The Process Dimension defines the PRM in terms of process areas and their scope, purpose, and outcome. The Capability Dimension consists of the capability levels and process attributes for the process areas identified in the PRM.
Process Reference Model (Process Dimension)
Processes are grouped into categories according to the type of activity they address. Each process is described in terms of a purpose statement, with unique functional objectives of the process when performed in a particular environment.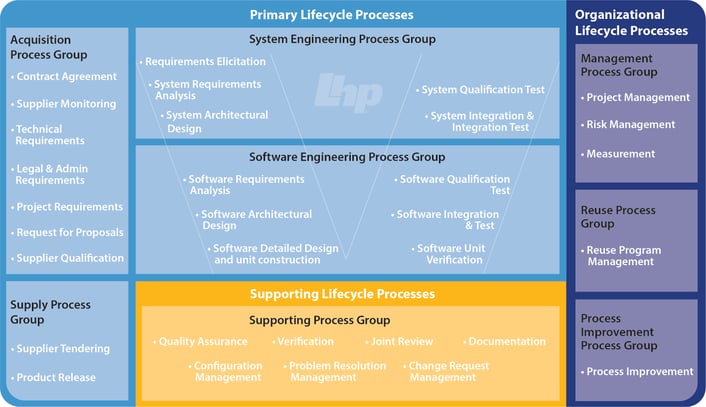 Process Measurement Framework (Capability Dimension)
Capability Dimension consists of Capability Levels (CL) which are further subdivided into Process Attributes (PA). PAs provide measurable characteristics to determine the process capability.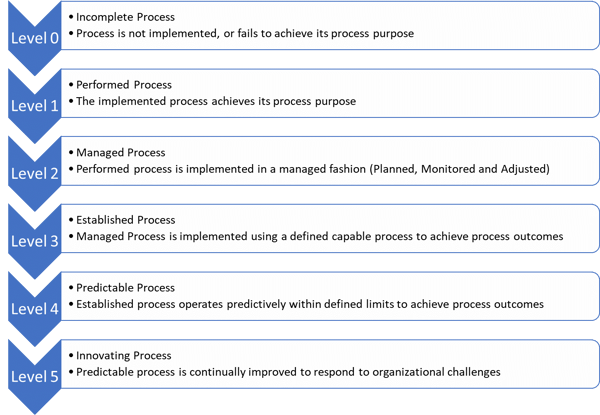 Process Capability levels are determined by rating the process attributes for each capability level.

The scale above can be represented in percentage achievement of a process attribute as below.

Below is a sample of a Process Assessment Model (PAM).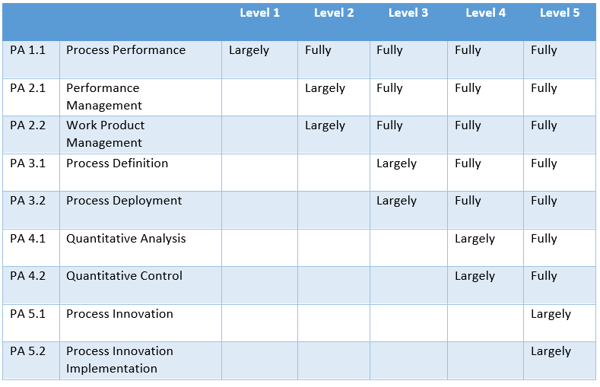 Relation to other safety standards
Functional Safety (ISO 26262) / ASPICE
As ASPICE is covering the broader topics of System Development, implementing ASPICE may provide a framework for implementing the requirements for ISO 26262.
Key differences between ASPICE and ISO 26262 are as follows.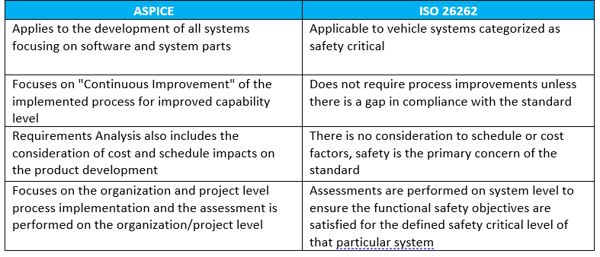 The similarities are found in the supporting processes such as Configuration Management and Change Management.
CMMI vs ASPICE
Capability Maturity Model Integration (CMMI) compliance does not mean that an organization or project is automatically compliant with ASPICE. Even though both standards look the same in the core concepts, they use different process assessment models, and there are gaps in the process area implementations.
Since ASPICE was developed for the automotive industry, it is a better choice for an OEM or supplier organization to implement in alignment with the rest of the industry. For organizations that have already adopted CMMI and want to implement ASPICE as well, a detailed gap analysis of the current process vs. ASPICE is the best place to start.
Interested in learning more about ASPICE for your organization? Contact our team today!
Further reading and references