From the Lab to the Road - Where your EV Platform Goes from Prototype to Production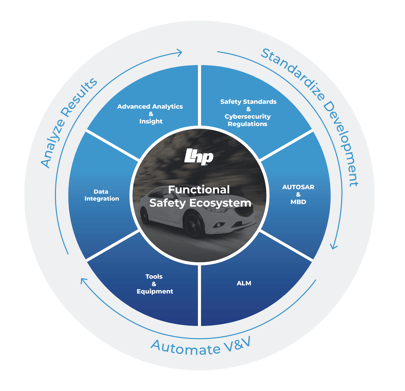 The VIL follows the LHP Functional Safety Ecosystem and addresses all components of the EV market including standards and regulations, tools and equipment, and data analytics.
Standards & Regulations - EVs and infrastructure are evolving quickly. Standards for EVs, Safety, and Cyber security are continuously evolving. Interpreting those standards and prototyping for real-world scenarios can be done inside our Vehicle Integration Lab.

AUTOSAR & MBD - Exponential growth of software in next-generation vehicles makes it impossible to effectively launch without a modeling & simulation environment, along with a standardized code structure.

ALM - The process used to develop, validate, and release EV software—combined with the complexities of Standards & Regs.—requires a workflow and set of tools that are scalable and integrated for a global organization.

Tools & Equipment - Hybrid and Electric vehicles and components require specialized tools and equipment for development, operations, and maintenance.

Advanced Analytics & Data Integration - The commercialization of vehicles beyond low-volume prototypes requires specialized integration of engineering ops and field data to provide the correct insights and decision-making tools.