How the Autonomous Electric Vehicle Bootcamp is propelling the automotive industry with hands-on-training
Today's job market looks more different than it ever has before. Industries that our grandparents and great grandparents once knew are becoming obsolete due to the rising trend in autonomy. Remember when you heard someone say, "Robots will take over the world one day?" Well, they weren't wrong, but maybe it's not such a bad thing. The automotive industry is being propelled forward by technology and autonomous features, and the next job to be taken over by robot is, "Driver."
Push for Autonomy
The push for autonomous vehicles is supported largely by the tech industry and Advanced Driver Assistance Systems (ADAS). According to SAE International's levels of vehicle autonomy, ADAS includes emergency breaking, backup cameras, adaptive cruise control, and self-parking systems. As ADAS systems continue to evolve with the growing competence of technology, a shift towards new entrants and disruptive trends in the automotive industry is imminent. Soon, the days of the traditional internal combustion engines will yield to a wave of fully electric vehicle adoption in the form of battery powered AC/DC motors.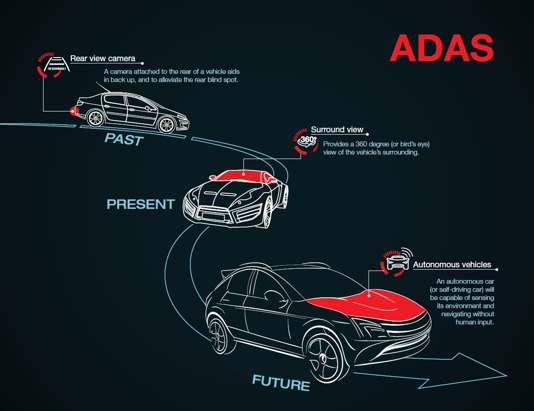 Source: Texas Instruments " What's next for Advanced Driver Assistance Systems? "
---
According to a study by McKinsey , "Electrification, autonomous driving, diverse mobility, and connectivity… will transform typically vertically integrated automotive value chains into a complex, horizontally structured ecosystem." OEMs and Tier-1 suppliers must embrace the change in technology to meet the demands of consumers and scale operations. Engineers and those who wish to work in automotive and tech industries will also have to adapt their skills and challenge what traditional education has taught.
How LHPU is Addressing the Autonomous Trend


LHPU recognizes the importance of preparing professionals for the autonomous marketplace and has created the Autonomous Electric Vehicle Bootcamp. Not only will the Bootcamp provide college students and recent graduates with a practical introduction to the technologies in autonomous vehicles, but students will get an in-depth look at how to manage a real-world working environment, including project management, team interactions, project reporting and dealing with change.


The Bootcamp is designed for engineering and technology students that are ready to expand their academic skills by designing, making, and testing a fully autonomous electric go-kart. This course uniquely and aptly incorporates of the latest industry safety standards for electric and autonomous vehicles. At the end of the course, students should have a working appreciation of important technologies and safety standards in autonomous vehicles. Students that complete this course will be ready to enter the emerging autonomous vehicle industry - an industry that is poised to cause the largest economic transformation in the first half of the 21st century.
Course Highlights include:
Embedded Systems
Functional Safety – ISO 26262 Standard Overview and Implementation
Controls Strategy Development using Model-Based Design tool (MotoHawk) and Simulink
CAN Communications (J1939 Protocol)
ISO 26262 Tool Classification and Qualification
MES Embedded Coder Tool for Section 6 of ISO 26262
MotoTune Calibration Tool
The course is designed to introduce autonomous technology in the form of an autonomous electric go-kart. The goal of the class is to have the students implement autonomous features using GPS and IMU sensors on a 48-volt battery powered go-kart.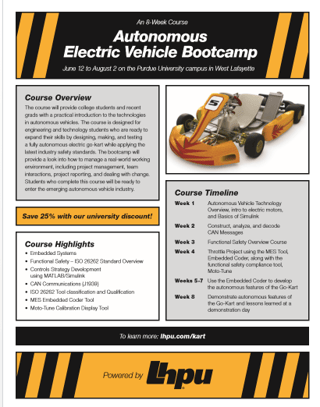 ---
Real-world Application in 8-Week bootcamp
The AEV go-kart used in the 8-week bootcamp utilizes GPS sensors to receive current GPS co-ordinates from satellites in order to map vehicle drive paths and location. The IMU sensors helps correct the vehicle's heading direction. They work in conjunction to guide the vehicle using a path planner pre-programmed into the system's brain (ECU). The ECU is programmed with a pre-conceived path in terms of GPS coordinates.
Other technology and automotive companies such as Uber, Lyft, and Waymo are using similar GPS technology for navigation. LHPU hopes to make the bootcamp as realistically applicable to a real vehicle with existing technology backings (LIDAR, ultrasound, camera vision) as possible.
Learn More About the Course
Autonomous Electric Vehicle Bootcamp course of 2018
Columbus, IN: 305 Franklin St. Columbus, IN 47201
DATE: May 1 – June 21, 2018
Purdue University: Purdue University's main campus – 610 Purdue Mall, West Lafayette, IN 47907
DATE: June 12 – August 2, 2018
If you are interested in attending the upcoming course, Visit LHPU.com and apply to get hands-on experience with cutting-edge autonomous vehicle technology.
Related Articles