Digital Transformation — Four Keys to a Successful Launch
A digital transformation alters how a company does business. It's a big move that affects work processes, company culture, and customer engagement. Most companies contemplating a digital transformation recognize the value of such a significant change — the ability to respond to an evolving market, meet customer needs, improve internal costs, etc. — but many are not sure where to start or how to boost the odds of success.
Four key steps can put you on the right path to cut the crap, avoid the churn, and gain rapid results.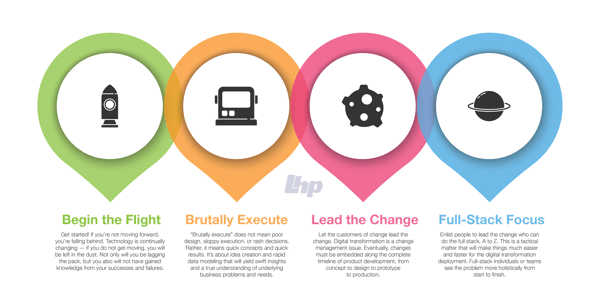 1. Begin the flight; do not stay grounded
Get started! If you're not moving forward, you're falling behind. Technology is continually changing — if you do not get moving, you will be left in the dust. Not only will you be lagging the pack, but you also will not have gained knowledge from your successes and failures.
Right out of the gate, there's considerable danger of death by committee if you expect to define a full-path scope and schedule before putting the first foot forward. First steps are just that — first steps. Do not expect your opening moves to be optimal.
When a plane takes off, winds will affect its bearing, orientation, fuel consumption, etc. The pilot must adjust accordingly to maintain course toward the destination. In-flight corrections are normal and continual. The same is true of digital transformations.
Even with small funding, even if you are unsure, develop an initial flight plan, get going, adjust, and start realizing some gains (e.g., ROI, market share, productivity).
A journey of a thousand miles begins with a single step.
2. Brutally execute
It may sound harsh, aggressive, or politically incorrect. The description might not go over well when first proposing a digital transformation. But brutal execution leads to creativity, less waiting, and more rapid results.
"Brutally execute" does not mean poor design, sloppy execution, or rash decisions. Rather, it means quick concepts and quick results. It's about idea creation and rapid data modeling that will yield swift insights and a true understanding of underlying business problems and needs.
In the realm of data analytics, as soon as the answers are available for questions A, B, and C, you usually want to know about B2, D, and E, and you want to know now. Quick iterations allow you to pivot and ask questions that lead to improvements to your initial solutions. This is not merely being "agile." It's failing forward and being fearless in solving the problem.
This concept also moves thoughts of complexity and the architecture to a lower priority. It's not neglect or lack of vision; instead, it avoids getting stuck in constraints of a specific path. The process might sound backward, but it will lead to a quicker return on investment — you go briskly and creatively for an initial solution, and then perfect and scale it. With modern programming languages and cloud services, the odds of getting stuck or caught in a performance bottleneck have drastically diminished.
As General George S. Patton said, "A good plan, violently executed now, is better than a perfect plan next week."
3. Let the customers of change lead the change
As McKinsey research has shown, 70% of transformations fail to realize their stated goals. This is not due to poor problem definition, incapable solution builders, or inadequate technology. The problem lies in the human factors.
Digital transformation is a change management issue. Eventually, it will cut across the entire company, including business management, IT, procurement, architecture, networking, and the plant floor. Eventually, changes must be embedded along the complete timeline of product development, from concept to design to prototype to production. Eventually. But engaging the entire organization at the very beginning is an open invitation for foot-dragging, undermining, naysayers, and politics.
Usually, one or two stakeholders within the organization will be at the center of the transformation. Call them the customers of the change. They have a burning desire for a solution. They have the passion and motivation to make it happen. Allow them to be the strongest voice in the room. Trust these customers to get the transformation moving, to make the opening moves, and to demonstrate and secure value.
4. Maintain a full-stack focus
Enlist people to lead the change who can do the full stack, A to Z. This is a tactical matter that will make things much easier and faster for the digital transformation deployment. Full-stack individuals or teams see the problem more holistically from start to finish. They adapt quickly, generate fewer hand-offs (which can create confusion), and can usually answer technical, business, and customer questions without having to turn to supplemental resources. For example, having expertise across the stack is critical in ensuring that compliance with legacy policies and/or processes does not undo all potential cost savings or innovation.
Conclusion
A digital transformation can have great challenges but can also generate great rewards. To strengthen the likelihood of claiming those rewards, take the four key steps:
Get started!

Move forward with speed and enthusiasm.

Entrust the first steps to your internal transformation customers.

Lead the effort with full-stack team members.
To get in touch with an LHP team member, reach out to our team today!

Further reading and references