NI Drivven Powertrain Modules, Exclusively sold by LHPTS, an LHP division.
The autonomous vehicle movement began in 2009 when Google announced their self-driving car project. From there, tech giants such as Tesla, Apple, and Uber jumped on the bandwagon, designing their own software, code, and sensors in hopes of owning the autonomous space. By 2015, there wasn't a single automaker that could ignore the draw of a self-driving vehicle. Companies such as Ford, Nissan, General Motors, and Mercedes started pouring into R&D in the hopes of being the first to produce an autonomous vehicle. Today, Hundreds of small companies are now rushing to offer improved radars, cameras, Lidars, maps, data management systems, and more.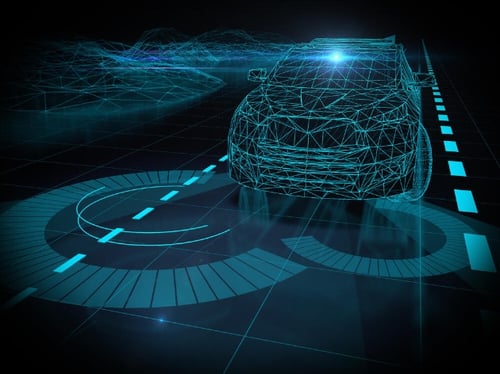 Autonomous Vehicle testing sensors, software, LiDAR capabilities

---
In the past five years, autonomous driving has forced its way into the lives of US automakers, suppliers and even consumers. That begs the question, how can the automakers and tech giants ensure the autonomous vehicles they are releasing are truly reliable and safe for consumers? The answer, while not simple, can be answered in one word – testing.
As vehicles advance toward autonomous operation, test engineers face drastically increasing system complexity while dealing with ever changing requirements of an autonomous vehicle. Companies are turning toward Modular testing solutions, such as the NI Powertrain Control Modules, to build a flexible and future-proof system that can change as various test requirements do.
The NI Powertrain modules complement each other to make a complete engine control system using the NI PXI or cRIO platforms. These custom systems are "customer need" and "customer driven" systems, not one size fits all. The Device Drivers and executable software is actively kept up to date with the yearly updated NI LabVIEW and NI Real Time software suites.
Learn about Drivven - NI Powertrain Controls Modules
NI-9751, Direct Injector Driver Module
This cRIO module has the following components for driving a variety of diesel and gasoline direct injectors, including many piezo actuated injectors: It has three solenoid injector drivers or two piezo injector drivers with up to 120V internal boost for solenoid mode and up to 190V internal boost for piezo mode. It has an input supply range of 7V to 32V and a peak current drive of up to 40A. The DI Driver module has an optional external input for a high voltage supply for up to 190V.


It features circuit protection and diagnostics including: Protections against shorts to voltage and grounds and internal power supply protections such as overload and over-charge. It monitors module temperature and detection of open circuit and has fault flag indicators for all the above conditions.


Each DI driver channel is individually controlled for timing and duration, but the channel's firing windows in crank angle degrees cannot overlap. When configured for piezo mode, channel 3 must have the terminals shorted.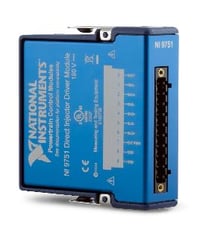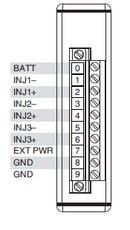 NI-9758, Port Fuel Injector Module
This cRIO module is for driving low and high impedance Port Fuel Injectors and general-purpose automotive solenoid valves and actuators. Each channel is individually controlled for timing and duration. The module features four channels for low or high impedance PFI drivers and four general purpose low-side solenoid drivers. It has open and short detection and reporting flags with short circuit disables.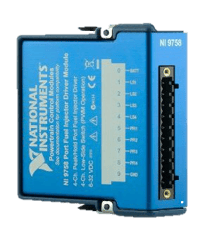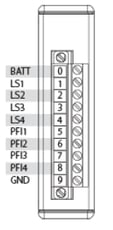 NI-9752, AD Combo Module
This cRIO module includes automotive-style analog and digital inputs with standard automotive sensors. It features 21 channels of Analog inputs that can be manually configured for optional pull up, pull down, and divide resistors. It also has two VR sensor inputs and two Hall-effect sensor inputs and three pins to provide 5V power to these sensors.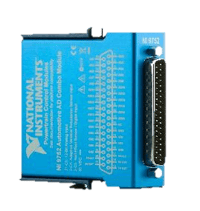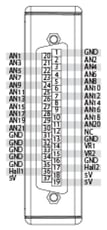 NI-9757, O2 Sensor Module
This cRIO module offers an interface for multiple wide-band and narrow-band exhaust oxygen sensors. It is configured to control 2 fuse circuits for the Bosch LSU 4.2 or the LSU 4.9 wide-band sensors. The fuses are serviceable.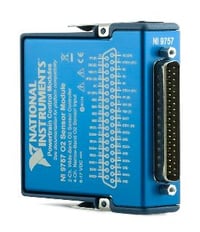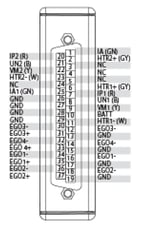 NI-9759, Throttle Module
This cRIO module is used to control two H-Bridge driver channels independently with a set of RT VIs to allow the user to calibrate the throttle control algorithms in engineering units. It also has two analog channels for throttle position feedback.
The fault reporting includes short circuit, over-temperature and monitors the battery, current and module temperature.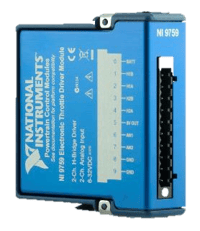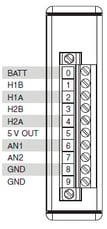 NI-9753, Differential Digital I/O Module
This cRIO module has eight individually controlled inputs or outputs which can be controlled by customized Boolean logic or specialized fuel and spark Vis included with the module. The outputs do not drive enough current to drive fuel injectors or ignition coils directly but can command smart coils.


The eight-channel module is compatible with RS-485/422 transceivers and have a protected 5V, 1A output.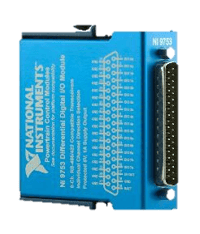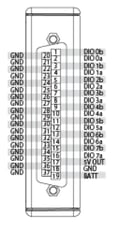 NI DCM-2301/ NI DCM-2316, Powertrain Controls Embedded Direct Injector Control and Measurement Device
This device combines the automotive power electronics for driving a variety of direct fuel injector and fuel pump actuator types with embedded software to allow it to be used as a stand-alone controller. It also has general purpose half H bridge drivers, analog inputs, digital I/O, and serial communications. The core of the DCM is an NI sbRIO-9651 System-On Board (SOM).


Some common uses for the DCM include Fuel System Testing for complete fuel system actuator testing applications, and either product line or durability testing of 4-16 injectors for the DCM-2316. It can also be used for sophisticated fuel system R&D projects. Another common use is engine control. The DCM provides all the power electronics required to actuate most engines, including port fuel injectors, electronic throttle bodies, exhaust gas recirculation valves, fuel pump metering valves and variable valve timing actuators.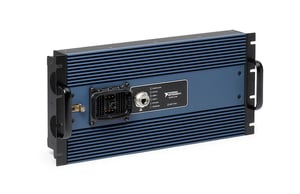 NI Powertrain Control Module History
Created by Drivven, Inc., the National Instrument (NI) Powertrain Controls Modules were designed to provide a complete range of CompactRIO (cRIO) compatible modules to interface with many of the sensors and actuators in the automotive field. They satisfied a need due to the voltage requirements in engine systems being higher than the typical cRIO modules from NI.
Drivven, Inc was acquired by National Instruments in 2010 and became the NI Powertrain Controls Group, where the modules were still integrated in Engine Control Racks and HIL systems. In 2017, LHP acquired the NI Powertrain Controls Group and formed partnerships with the founding members of Drivven to position themselves as the leading company for engine control products and systems.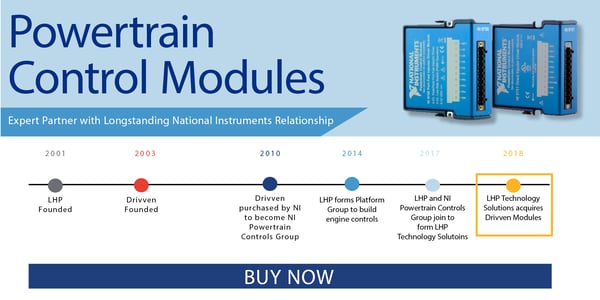 LHPTS is now positioned to be the leader in automotive engine control products and services. LHP engineers and staff have years of experience with these products and are ready to assist you with the solution you need for your research, end-of-line testers, or HILs. Please visit the LHP website to further investigate what these NI powertrain control modules can do for you.