How to Ensure Safety in
ADAS Design

and Verification

Blind-spot monitoring. Adaptive cruise control. Lane departure warnings. Features like these are popular in today's vehicles, but are consumers getting what they think they are buying? Broadly advertised as ADAS safety features, such systems fall short in ways that drivers may not expect.

With the escalating deployment of these features — collectively known as Advanced Driver Assistance Systems (ADAS) — car makers must be aware of what is required to design, test, and produce systems on which the public can rely. ADAS verification and validation must show that the systems will work not only as designed, but also as intended. Doing anything less may not only lose customers, but might also raise the risk of injuries for vehicle occupants and liabilities for manufacturers.

Thankfully, guidance and tools are available to set manufacturers on the right course.
The Issues
Owners find comfort and convenience in ADAS systems. According to a 2018 study by the American Automobile Association, 75% of buyers find the features to be useful and nearly the same percentage would recommend them to others.
Manufacturers are expanding the types of ADAS and are quickly adding them to a wider range of vehicles.
So, what's the big deal? The problems stack up this way:
Manufacturers promote ADAS as safety devices.
There are numerous conditions under which today's systems do not work correctly. Sensors cannot "see" if they are blocked by dirt or snow. Blind-spot monitors are typically unable to recognize vehicles passing at very high speeds. Motorcycles and pedestrians are detected with only intermittent success.
Drivers often lack knowledge of ADAS limitations, yet they depend on these systems and modify their behavior behind the wheel as a result. Drivers are backing up and changing lanes based on sensor response rather than visually checking blind spots.
Manufacturers are trying to cover their accountability by placing disclaimers in the vehicle user manuals.
This gap between user perception and product reality can spawn casualties on streets and highways. People generally assume that the items they purchase are basically safe and will not cause harm when used as directed. However, even if the driver has read the disclaimers and is being attentive, ADAS as designed today, sometimes misbehave in ways that may startle the driver and confuse surrounding traffic. This can lead to accidents, tragedies trigger lawsuits, and the inevitable deep-pocket target for compensation is the manufacturer.
The Right Way
Though these electro-mechanical wonders are in their infancy, they are providing valuable functional support to drivers. As they mature and improve, they will become the core of autonomous vehicles. But, ADAS development must be rooted in safety. The tragic accidents involving self-driving cars just a few years ago are a reminder that expansion of ADAS technology must be done mindfully.
ADAS must be founded on requirements-based design and testing where safety goals are set, design follows, and thorough testing confirms the functionality. Unfortunately, the typical approach across the automotive industry today is not so meticulous; for instance, design goals that start in marketing and testing that avoids potentially problematic conditions.
To advance properly, the industry needs a consistent and methodical approach for the development of vehicles and their systems, creating products conceived and developed with safety in mind, backed by complete, transparent, and traceable documentation. This will depend on the use of standards.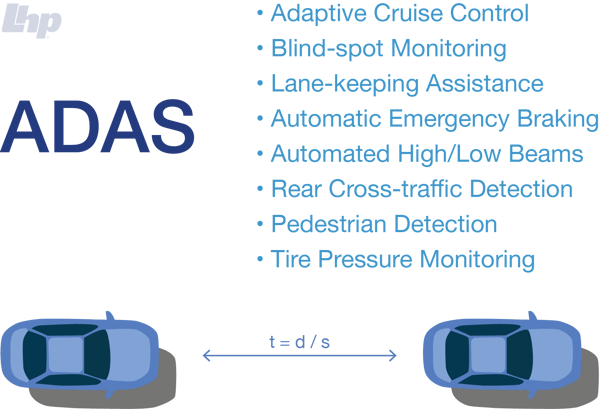 The Standards To Use
We recommend deployment of the following standards:
Functional Safety (ISO 26262) — Considers the avoidance or management of malfunctions in safety-critical electrical and electronic (E/E) systems
Safety of the Intended Functionality (SOTIF; under development as ISO/PAS 21448) — Addresses the risk of unintended behaviors from systems operating "correctly"
Automotive Software Process Improvement Capability dEtermination (ASPICE) — Provides a strategy for software development and a process assessment model for measuring the quality of the development
These standards provide processes to help with the complexities of ADAS and autonomous vehicles: Electronic brains – using millions of lines of software code to interpret input from multiple sensors – make rapid decisions on varying (and sometimes unpredictable) circumstances and instruct controlling devices on the actions to take.
The standards contain numerous recommendations and guidelines, not all of which will be necessary for every product. To avoid wasting money and effort, the most effective application of the standards comes in understanding the intents and demonstrating that your development process satisfies those intents.
This may sound like a downward spiral into confusing detail, but it need not be. This is where applied expertise can be very valuable.
The support you need
LHP Engineering Solutions is a technology integrator and engineering services provider in the transportation industry. Founded in 2001, LHP provides expertise on topics including ADAS, electrification, connectivity, and associated standards. Using a bottom-up approach, we will work with you to ensure you're interpreting and implementing the standards correctly and efficiently. We have a clear understanding of how to manage and map standards requirements into the workflow processes you will need.
LHP is committed to creating a safe automotive landscape by delivering state-of-the-art training, hands-on consulting and implementation, dedicated on-site resources, technology solutions, and engineering services built on the latest industry standards and best practices.
Our mission is to create a safer, smarter, and more connected world through the use of autonomous technology. We believe that by developing technology solutions and engineering services built on intelligence, connectivity, and actionable insight, real autonomy is possible.
The eBook You Will Want To Read
LHP has prepared an eBook, The 2021 Guide to ADAS Products, as a resource to further educate your organization on how to ensure safety when designing and verifying ADAS products, features, and vehicles. It tells the story of ADAS deficiencies, their impact on organizations, and the standards and processes that can save the day.
The eBook also describes:
The level of testing necessary to ensure that ADAS will function safely and as intended.
How testing in the lab rather than on the road can make in-depth verification and validation economical.
The value of integrating information management tools to support automated data flow and to avoid multiple (and possibly divergent) versions of the same information.
The End
ADAS's rapid evolution is similar to the introduction of smartphones — they have positively affected our lives. However, there is one major difference: the impact on the safety and well-being of the user. ADAS systems are marvelous combinations of electronics and hardware that provide great support to drivers and will improve safety on the road, but only if implemented properly.
LHP's eBook provides excellent guidance on how to make your ADAS project a safety success
Further reading and references